As far as current girl groups go, British-based trio Flo is one of the most cohesive style-wise, as well as one of the most nostalgic: Their same-but-different outfits are reminiscent of a time when coordinated looks on the red carpet and beyond — à la TLC and a Tina Knowles-styled Destiny's Child — were sartorial signs of a united front.
It makes sense, then, that the group's stylist, Kirsty Stewart, leans heavily on the '90s and early '00s for fashion inspiration.
"From the music videos to the runways, I always find myself referencing that era a lot, and specifically people like Aaliyah, Madonna, Jennifer Lopez, TLC and Destiny's Child," she tells Fashionista.
Stewart started working with Flo members Renée, Stella and Jorja back in 2019. (She counts Olivia Neill, Coi Leray, Pop Millett and Maya Jama as some of her other current and former clients.) She's had what she considers an unconventional start to styling: Initially planning to become a buyer, she left university in 2017 when she was offered an opportunity to style her best friend, actor Amy Jackson, on one of her press tours. 
"I just jumped in at the deep end and taught myself on the job, basically," she says.
Stewart gradually grew her client base from there, crediting Instagram as a catalyst to her success. She used the platform to scout young designers and connect with other creatives, like Fal-Ash, Urtekat, Jade Cropper, Western Affair, Filles a Papa, Elif Studios and Caroline Reznik.
"I would spend hours researching emerging designers and finding cool looks for my clients to wear that nobody else had seen before," she says. "I think that helped set me apart from other stylists in London at the beginning of my career. People started to take notice of me, and then I was fortunate that I booked more and more clients from that."
Two years later, Stewart transitioned to working with musical artists. Flo reached out shortly thereafter.
"When I was doing the actress work, it was obviously predominantly red carpet, and it was quite unfulfilling for me," she says. "You can be so much more creative with music."
Stewart underestimated, though, how hard styling a group would be, compared to styling a single client. "When it's across three girls, obviously you need them to look cohesive, so the whole process is definitely more difficult," she says. "But, it's also more fulfilling, and it feels like a bigger achievement."
Fortunately for Stewart, the ladies of Flo make the job a bit easier by understanding the unique dynamic of being part of a unit. "They don't try to outshine or compete with each other — they really do want to look like a group," she says.
Sure, there are certain styles that one might prefer over the other. Stella, for instance, loves a mini skirt; Jorja will always gravitate toward a jumpsuit, and Renée will wear pretty much anything, according to Stewart. But, for the most part, the trio is comfortable volleying between dressing more feminine some days and invoking a relaxed streetwear vibe on others.
"We don't really want to get stuck in each girl wearing one particular thing," says Stewart. "They're all very fluid."
Flo hadn't worked with a stylist before Stewart, giving her a blank canvas. It was an uphill battle in terms of getting brands to work with them, though. "Brands and PR aren't necessarily interested in sending to a brand new developing act," she says. But it was a blessing in disguise, because it forced the team to be super selective.
"We knew that we wanted to avoid fast fashion, and the girls are really interested in young, cool designers instead," says Stewart. "It aligned perfectly with me, and we really stayed true to our goal."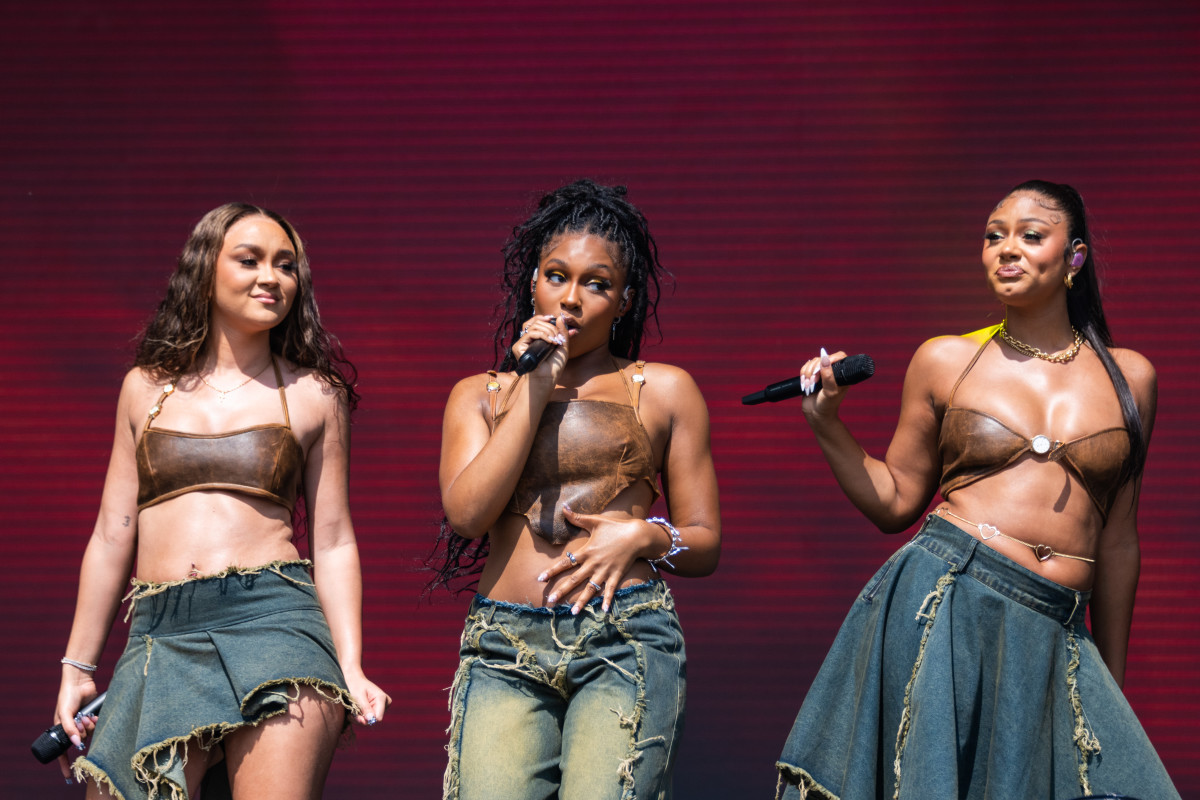 Some brands the trio has worked with over the years include Patrycja Pagas, 1xBlue, Coperni, Y/Project, Tadeleye, Davounte Williams, Loewe, Shakkini, Joélle, Fanci Club, Diesel and Mugler. Avoiding the easy route in the beginning is starting to pay off, says Stewart: "Now, I feel like everyone wants to dress them."
This London Fashion Week, Stewart's excited to see the latest from designers like Knwls, Mowalola and Masha Popova; she's also stoked about Christopher Esber, who will be showing in Paris for the first time. ("They consistently nail the balance of cool but never trying too hard," she says of the Australian label. "It's very '90s, and right up my alley.")
This will be Flo's second fashion month appearance. (Last year, the trio had an exclusive with Loewe, which Stewart describes as "perfect for their first season.") She's still carving out their show schedule and approach. Generally, the goal is to meet the designers who dress them year-round for red carpets, music videos and editorials in person and earmark pieces from the new collections.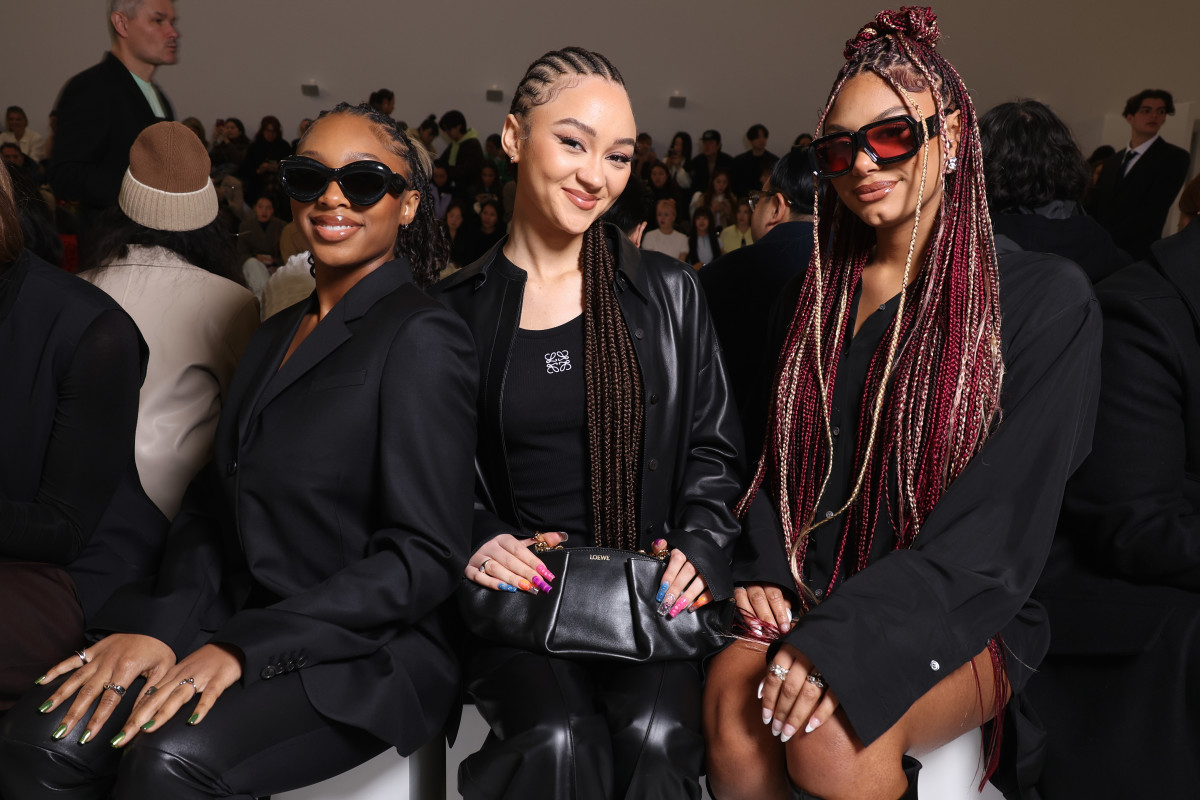 Looking even further ahead, Stewart would love to see Flo on the Met Gala red carpet in the next couple of years and gracing more magazine covers. (So far, they've appeared on NME, Essence Girls United and Notion Magazine)
Stewart has taken the past few years to introduce the girls to the world and get them established. Going into 2024, she plans on pushing more boundaries.
"We have a 12-month plan, and that's across editorials that we might want to do or events that we want the girls to be seen at and target designers that we want to work with," she says. "We really want them to have iconic looks that people in 20, 30 years will look back and have on their mood boards."
Never miss the latest fashion industry news. Sign up for the Fashionista daily newsletter.