Most of us have played around with beauty filters, whether that's on Snapchat, Instagram or TikTok. Trying on big wispy eyelashes, bold lip colors, or even different-sized lips can be fun, but most of the time, it can't compare to trying on beauty products in real life. That's where virtual try-on (VTO) technology comes in. While VTO in e-commerce can mimic silly filters on social media, it's actually an increasingly popular method brands are using to help customers realistically try before they buy. And that's because VTO isn't just a novelty experience anymore — it's proving to be a serious moneymaker.
According to Statistica, in 2021, beauty tech-driven purchases resulted in an estimated market revenue of about $1.35 billion in the U.S. This spanned everything from makeup simulations to virtual skin diagnostics. It's estimated that this emerging market is set to reach a valuation of over $3.4 billion by 2026.
"The ease of use and effectiveness of VTO not only benefits businesses, but also enhances the overall experience for consumers, delivering a more enriching client journey that increases purchasing confidence and helps shoppers find the products best fit for their unique beauty needs," Alice Chang, CEO and founder of Perfect Corp, tells Fashionista via email. Perfect Corp is one of the leading AI and AR tech providers in the fashion and beauty space, used by more than 500 brands globally, including Estée Lauder, Macy's, Target and Walmart.
Perfect Corp, much like other VTO providers, offers technology that enables people to use "hyper-realistic AR and AI" to test makeup, try on nails and even find recommendations for skin-care products. The goal is, of course, to sell products. Still, there's a hope that VTO may also reduce returns, minimize beauty retail's carbon footprint and eventually create more eco-conscious business practices. It's also possible that it can save consumers money, as more brands like H&M and Zara revoke their free-return policies.
However, the main concern when using beauty VTO is whether it's capable of tailoring the experience based on different skin tones, undertones and overtones, all of which make products perform radically different from person to person.
Perfect Corp, for instance, "developed AI deep learning algorithms to detect the full spectrum of skin tones from a database of 89,969 shades with unlimited grades from light to dark and true undertones from warm to cool," according to Chang.
Another issue is that VTO can't let a user know whether a lip gloss is sticky or a sunscreen feels greasy. This is something Effie Asafu-Adjaye, the founder of fashion and beauty marketing consultancy Beautiful Sparks, sees as a downside to VTO: "The main drawback is that buying beauty and fashion has always been a sensorial experience. It's things like the texture, feeling on the skin and the scent of beauty products that help you make a decision about not only what looks good on you but feels good on you, too."
So we decided to put a few beauty VTO experiences to the test to see if virtually trying on lipstick, eye shadow, hair dye and nail polish was enticing enough to hit that "add to cart" button. Read on for our findings (and see our reviews of clothing try-on tech here).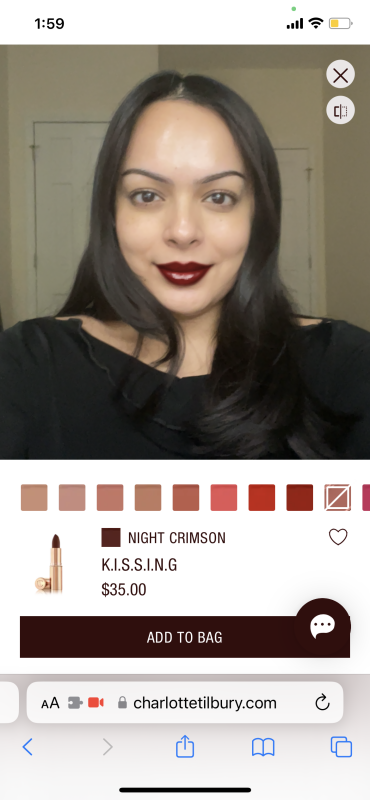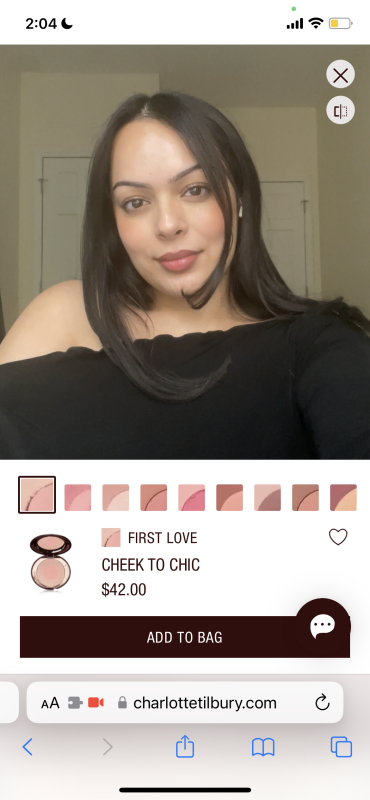 Rating: 8/10
Charlotte Tilbury's products have garnered global recognition, thanks to the virality of products like the Hollywood Contour Wand, Flawless Filter and Pillow Talk Lipstick. However, one review of the brand's VTO experience was less favorable, describing it as difficult to use, glitchy and unremarkable.
I was pleasantly surprised, though. While the VTO technology isn't available for all the brand's offerings, there are a decent number of cult-favorite eye shadows, lipsticks, glosses and eyeliners to try. Unlike a lot of makeup VTO I've played around with, it didn't appear heavy-handed, and I even felt compelled to try products I generally wouldn't purchase. There's a before-and-after button to compare your bare face to the VTO. Okay, so maybe the mascara try-on did really feel like a bad TikTok lash filter, but besides that, the technology was pretty seamless, and I didn't experience any glitches or issues allowing camera access on my laptop. However, entering the state I resided in every single time I tried on a new product got a little tedious.
After trying a few eye shadows and contour products, the thought crossed my mind that this experience would be much better if the VTO allowed people to customize their product placement in accordance with how they actually wear their makeup. Isn't contour supposed to be tailored to one's facial structure anyway? This, and the eye shadow placement superimposed onto me felt outdated and alien compared to how I apply it in my day-to-day life. 
A pleasant surprise — especially as someone who wears lipstick every day — was the lipstick shade matcher. Although it was presented in a quiz format, once my shade was selected, the quiz took me straight to the VTO to try it on. And surprisingly, the rich crimson hue was a lipstick I'm actually considering buying.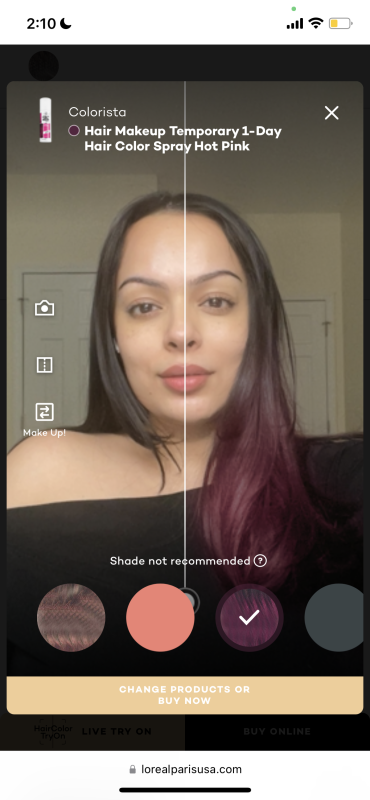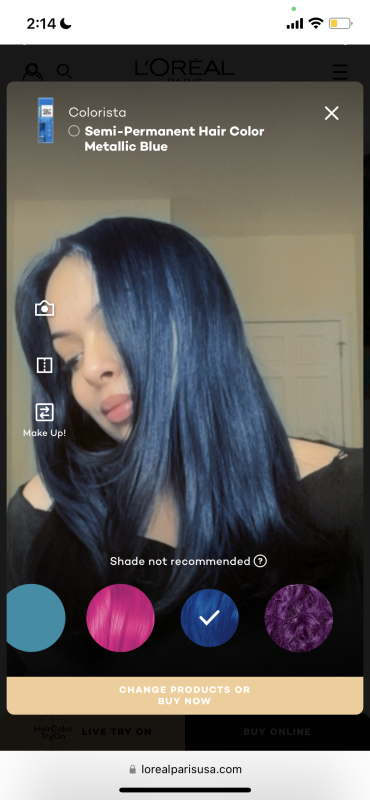 Rating: 3/10
The L'Oréal website offers two different try-on options: makeup and hair color. And anyone who's tried hair color filters knows that they seem to be the hardest to get right.
I decided to go with the hair color VTO since I've been contemplating a drastic change in my real life. L'Oréal offers the option to upload a photo of yourself or try a real-time try-on via your camera. Only two products are available for the hair VTO: Colorista Semi-Permanent Hair Color and Hair Makeup Temporary 1-Day Hair Color Spray. The vivid colors include striking teals, bright violets, hot pinks and even metallic colors. Exciting!
After consenting to the terms I definitely didn't read, I clicked the live try-on button. Then, what I'll refer to as the Pink Screen of Doom appeared with text that read: "Recommended for light to medium brunettes. Results will vary depending on the starting color and condition." No matter where I clicked or how long I waited, the VTO didn't start. So, I tried a different browser. It still didn't work. I tried my phone, and as soon as I clicked the button there was that screen again. Just as I was about to give up, the camera booted up with a jump scare of my bewildered face. So I went back to my laptop, and all of a sudden it started working there, too. (Although, once I clicked out of it, I was unable to recreate how I had gotten it to work in the first place.)
I'm still not sure if the unmovable warning was about the VTO experience or the actual use of the hair color, but either way, I was less than impressed. I'd skip this one and try a TikTok filter instead.
Google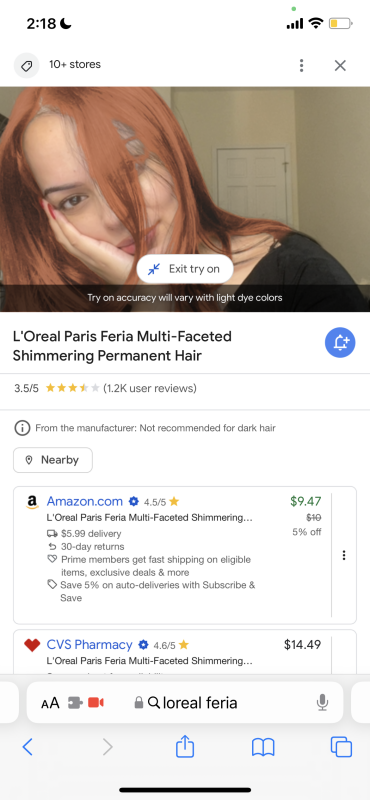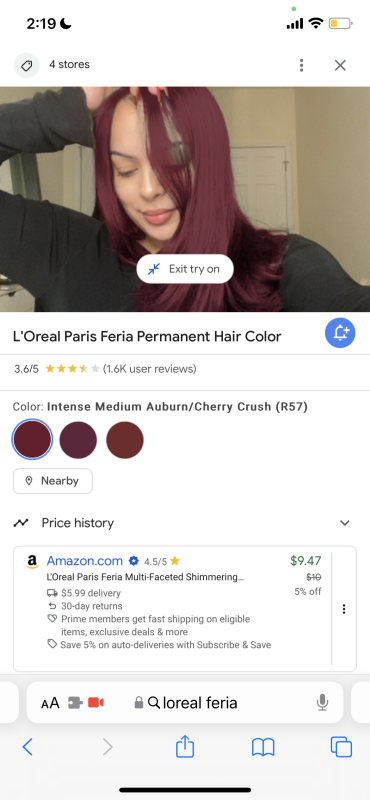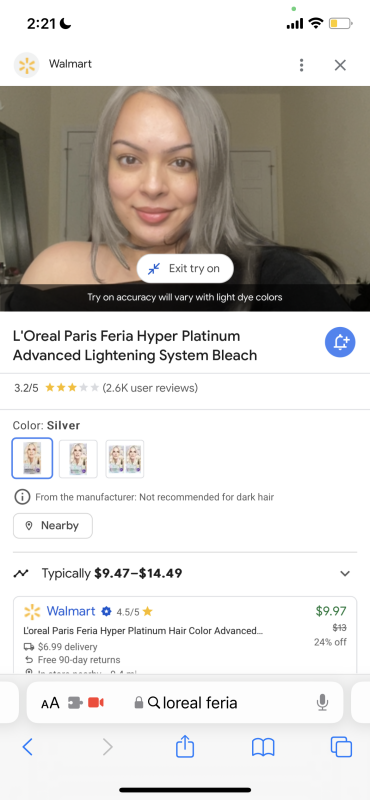 Rating: 6/10
At the end of October, Google announced it would be rolling out some additional AR beauty tools in an expansion of its VTO offerings. Three years ago, the tech giant enabled its users to try on lipstick and eye shadow through the Google mobile browser. Now, people can use the Google app to try on different hair colors and foundation; in the U.S., this feature is available on any mobile browser, including Safari.
Unsurprisingly, I found this one pretty easy to use. All I had to do was go to the Google app, search for "hair dye," and scroll until I found a product with the "Try it on" button. While I had some issues finding products to try when using Google's fashion generative AI tools, this experience was significantly easier.
A box of L'Oréal Paris Feria Permanent Hair popped up on-screen, and it felt like the universe was urging me to try it after my failed attempts with the brand's own VTO. Granted, it was a different product, but this experience was seamless. After allowing access to my phone camera, I was able to try on any hair color available, swiping easily from shade to shade without any lagging. That said, the way the color was rendered onto my head was quite clumsy, and only got worse the lighter the colors I chose were. Clearly, hair VTO has a long way to go.
Trying on foundation was a little more realistic: I went with the Fenty Beauty Eaze Drop Blurring Skin Tint in the Safari browser, and while it was a little slower to load compared to the Google app, it worked pretty much just as well. However, I'm not sure you could reliably pick a color match with the technology. I have a light-to-medium, cool skin tone, but no matter which shade I chose, the VTO smoothed me out and made me look pretty good with warmer and more neutral shades. I looked unnervingly pale when I chose paler shades, with the deeper tints causing me to look gray, but when it came to shades around the same color as me, I looked perfectly okay. This makes me think that this tool isn't delivering on anything VTO is supposed to — fewer returns, more purchases and higher customer satisfaction.
Nyx Cosmetics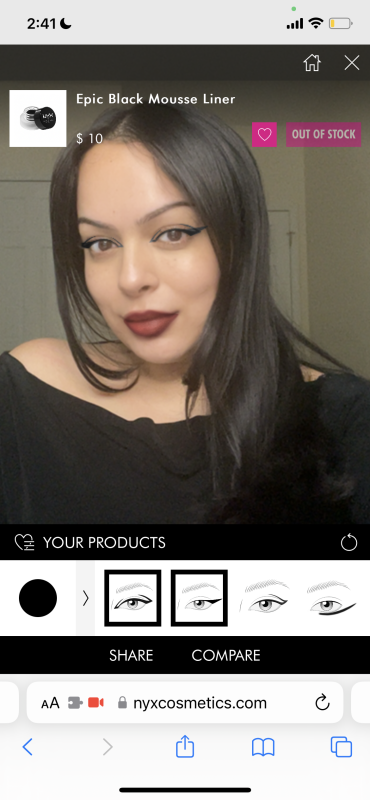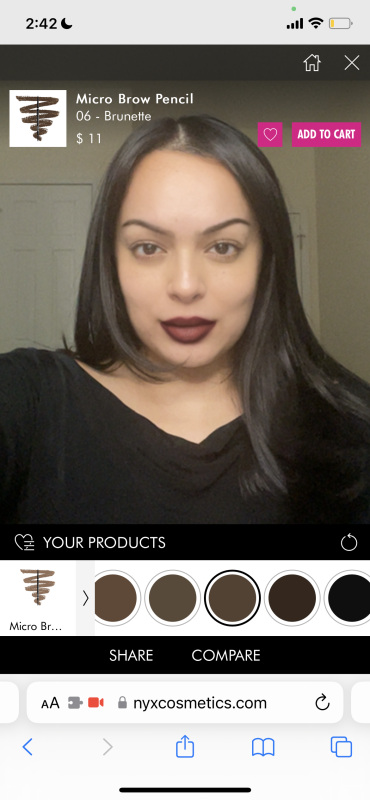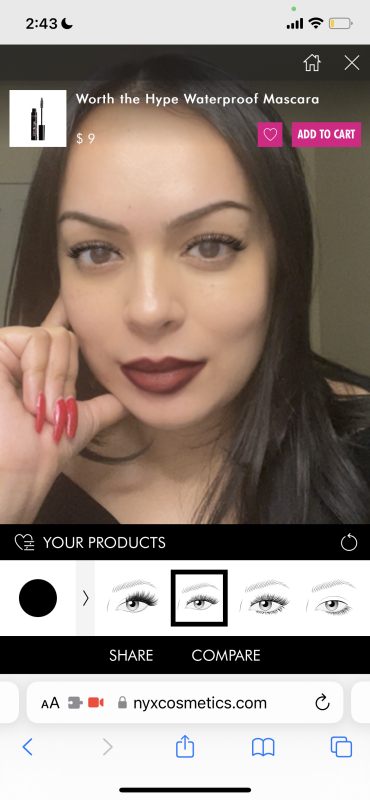 Rating: 9/10
Nyx Cosmetics has always been a reliable drugstore brand, one that has a stronghold in my makeup collection for its high-quality, low-cost formulas. So I wanted to see if its VTO could effectively communicate this to potential new customers keen to make some purchases.
The setup was virtually the same as any other VTO. I had to consent to the technology scanning my face; however, I also had to confirm that I was over 18 and a U.S. resident, an extra requirement I hadn't come across on other platforms. And similar to other VTOs, there was the option to use a photo of myself, a photo of a model, or go into "selfie mode" and use the live camera to try on some makeup.
The transition from clicking "selfie mode" to being taken to the live camera was the quickest I experienced. A quick tutorial explained how to use the feature, but as someone who's impatient and believes I can fumble my way through 99% of technology, I skipped it and was on my way.
In the same screen, I was able to click through the entirety of the Nyx product range and even try on preset looks while adding products to my cart with ease. Switching between different features was incredibly easy. And I had a particularly good laugh when I applied the Plump Right Back Face Primer Serum, which was superimposed with a dewy look. 
But imagine my surprise when I clicked on the eye shadow shades and was then taken to a screen to determine the placement of the product: The VTO allowed me to stack placements, applying shadow to my eyelid, inner corners and lower lash line if I wanted to, while removing anything I didn't want. The glittery eye shadow actually looked glittery. I could apply eyeliner in different styles too, ranging from a classic cat eye to a bold graphic design. As someone with already-dark, bushy eyebrows, I knew this would be the real test. And Nyx didn't disappoint. Instead of being given heavy, Sharpie-like eyebrows, which I expected, the VTO tech gave me powdery, elegant brows.
But nothing is perfect: The false-lash application was comical, while the lipstick and lip-gloss VTO were unnaturally sharp until I added a lip liner. Despite some small hiccups, this drugstore brand continues to surprise me and provide an incredibly satisfying VTO experience.
MAC Cosmetics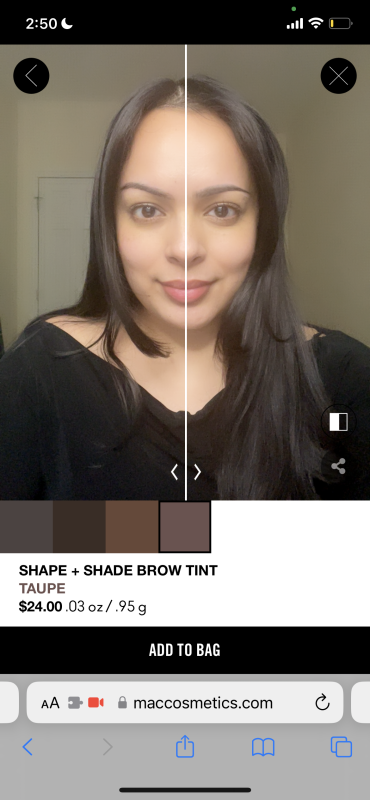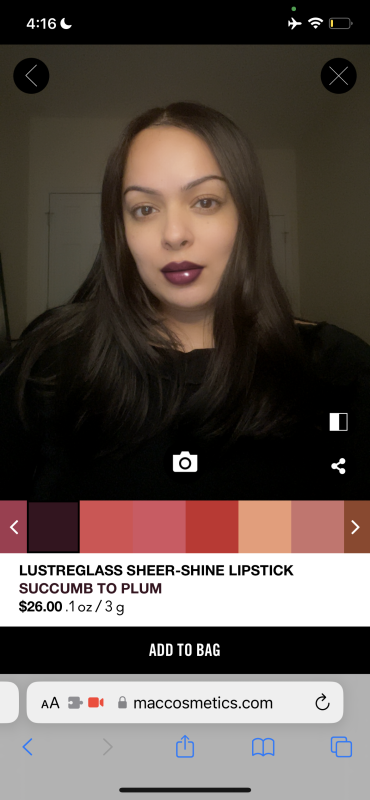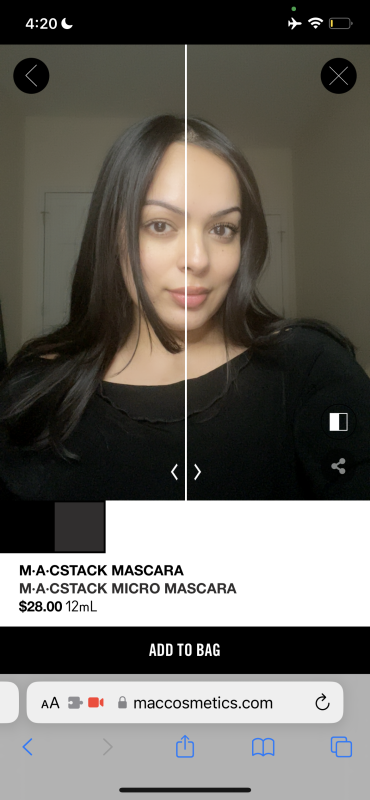 Rating: 7/10
MAC Cosmetics is a tried-and-tested makeup brand with staples that everyone, from novices to experts, worships. With its VTO offering over 800 shades of lipstick, foundation, eyeshadow, blush, mascara, brows and lashes, this was shaping up to be the highlight of my little experiment.
I beelined for live camera mode and decided to test the brand's eyebrow product VTO, especially since Nyx's blew me away. So I picked a dark brown shade I had happily used before, Spiked, and was disappointed to see what I had wrongly expected from Nyx: round, bulbous caterpillar brows. Trying on lighter shades of the brow product worked a little better, but since I knew they wouldn't work for me in real life, the try-on experience felt more like toying around with filters than testing a product.
I also had to exit one product to try on another, a process that seemed even more laborious when compared to how seamless the Nyx experience was.
To be fair, I tried on some lipsticks to hone in on one of Nyx's weaknesses, and it's here that I discovered MAC's strength. Not only did the lipstick appear incredibly natural on camera, but the edges around my lip line were tailored too, and the shades felt delicately applied. Even in the darkest purple shade, Succumb To Plum, my lips looked plump, juicy and alluring, with the shine on my lips moving in tandem with me.
Despite offering four foundations in the VTO, all of which were marked with a "Try it on" button, once I clicked through there wasn't any option to enter a VTO experience. On some eyeshadows, after entering the VTO experience, text appeared informing me that the shades were not available to try on. After clicking through each shade, it was clear that, in fact, none were available. When the eye shadows did work, the VTO clumsily filtered over my eyelashes, giving me a strange, bald-eyed look that felt at odds with my actual face. And maybe I'm a hater, but I don't think I'll ever find a mascara VTO experience that I like. MAC is no exception.
Gucci Beauty 
Rating: 6/10
Once I downloaded the Gucci app and clicked the "Try-On" button, I was prompted to sign up. As annoying as it was to enter my information and email, I thought it was worth the effort considering I was just about to go in-screen shopping at Gucci. As it turns out, there was plenty to choose from.
I decided to start with nails and was surprised to see that the VTO technology easily painted the entirety of my long nails. Some glitter poked through, as did the edges of my nails, but it could work a lot better on bare nails.
Next, makeup. I started with pre-saved looks inspired by the runway. I expected a lot from the luxury fashion house, especially after being impressed by a drug store brand's VTO. The difference in textures of lipsticks — from glossy to powdery — really had me sold. And I could easily click and find the exact products used to buy them easily. However, the experience quickly went downhill when I moved out of the pre-saved looks and began trying individual makeup products.
While the lipsticks performed well, blush was another story. We've all used Instagram filters that give us Naomi Campbell cheekbones, but imagine poorly superimposed blocks of color used to give the illusion of lifted cheeks. The blush VTO awkwardly hovered over my face and even bled outside my face shape. The eyeshadow VTO wasn't particularly unique or interesting, but the experience was adequate.
Then came the lip liner. Nothing could have prepared me for the lip liner. Whether I used it with or without lipstick, a harsh, cartoonish line of someone's lips — definitely not mine — was placed over my mouth haphazardly, and changing colors just made it worse. The liquid eyeliner, which gave me a rudimentary cat-eye, looked awful on me, and I was disappointed to see there weren't any options to change its placement.
So it'll come as no surprise that the Gucci app failed at providing a mascara VTO that doesn't look ghastly. But it was the bronzer that really pushed me over the edge. It gave the same effect as the blush, adding a weird bulkiness to the rest of my face… and it was at this point that I closed the app.
My initial excitement — I was even close to purchasing a lipstick — had disappeared. This VTO experience left me feeling kinda ugly, and I was no longer in the mood to splurge.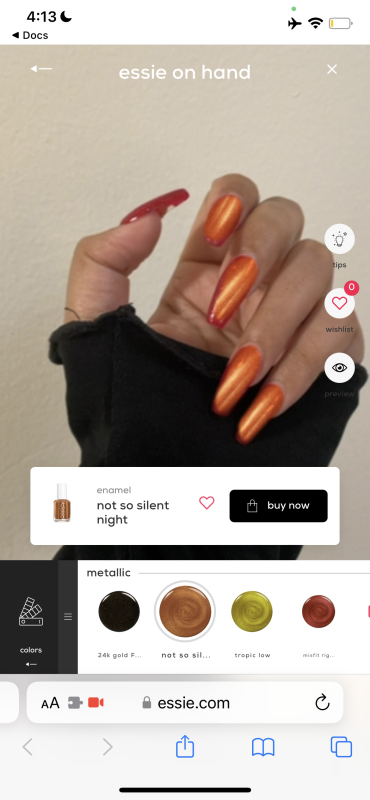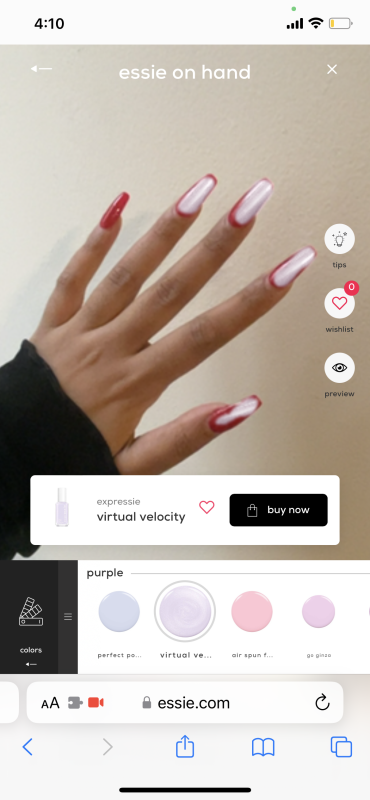 Rating: 8/10
To finish, I thought I'd try something I hadn't even considered in my beauty VTO journey until stumbling far, far down this rabbit hole. Every month, I get long acrylic nails in the most obnoxious colors I can find, which I'm unable to choose until I'm physically inside a salon. So when I found that Essie had teamed up with Modiface to create a nail-polish VTO experience, I was all over it.
Only available on mobile, the VTO is simple enough, allowing you to choose a model or your own hand for a live try-on. The one tiny problem is that it requires bare nails. Currently, mine are long and coffin-shaped with red glittery polish. (I went for a festive blood hue for Halloween.) I do give the VTO technology props for stretching out and doing its best to cover these talons in whatever color polish I chose, but the red edges of my current nails peaked out.
The next-best thing was to find my boyfriend and apply the VTO on his freshly trimmed, bare-as-bones nails and the Essie VTO went to town. The nail polish caught the lights as he flexed his fingers and the metallic hues came through the phone as though his fingers were freshly painted. While the website didn't glitch, the only issues I experienced — besides being a less-than-ideal candidate — was some lagging.
Takeaway
VTO technology is an undeniably fun way to try beauty products, but there's clearly a long way to go until customers can rely on it. In a lot of cases, it's difficult to trust, especially when it comes to something as specific and difficult to match as foundation. Other times, the technology is let down simply by its lack of sophistication. However, as generative AI emerges and improves upon AR and VR experiences, there is hope that VTO will also evolve.
So, while VTO feels primitive in its current iterations, combining it with AI could take it to levels that may seem unachievable right now. "AI is speeding up the learning process of VTO," says Asafu-Adjaye. "This means as more people use the technology every day, the technology is getting smarter at a rapid rate. In the next few years, AI will do a better job at personalizing the experience of VTO where the appearance of products in your image will be so seamless it will almost be indistinguishable from the real thing."
Please note: Occasionally, we use affiliate links on our site. This in no way affects our editorial decision-making.
Never miss the latest fashion industry news. Sign up for the Fashionista daily newsletter.